Health Reimbursement Account (HRA)
Updated On: Oct 295, 2022
Health Reimbursement Account (HRA)
The IAFF Local 587, has established a plan to reimburse you for any eligible IRS permitted medical, dental or vision expense.
Here is how it works:
Once you become a Participant, a reimbursement trust account will be maintained in your name, to keep a record of the amounts available to you for certain eligible expenses.
The maximum dollar amount that may be credited to the account in any plan year is:
$500.00 for those with employee only coverage

$1,000 for those with employee plus 1 coverage

$1,500.00 for those with employee plus family coverage.
As you incur eligible expenses, you may be required to provide supporting documentation. Cash register receipts, canceled checks, credit card slips or credit card bills will not be accepted. If the expense is eligible, you will receive a reimbursement and the amount will be recorded in your account. If the reimbursement request is rejected as not eligible, you will be notified why.
You can access your account balance and MySourceCard activity at any time by signing into our website. If you have never created a login ID for our website, please follow the following instructions:
Go to www.div125.com

Login ID field – type in your SSN# without spaces or dashes

Skip the password field and click login

Enter employer code: 48898691

You can then personalize your ID and password
Ways to Use Your HRA Funds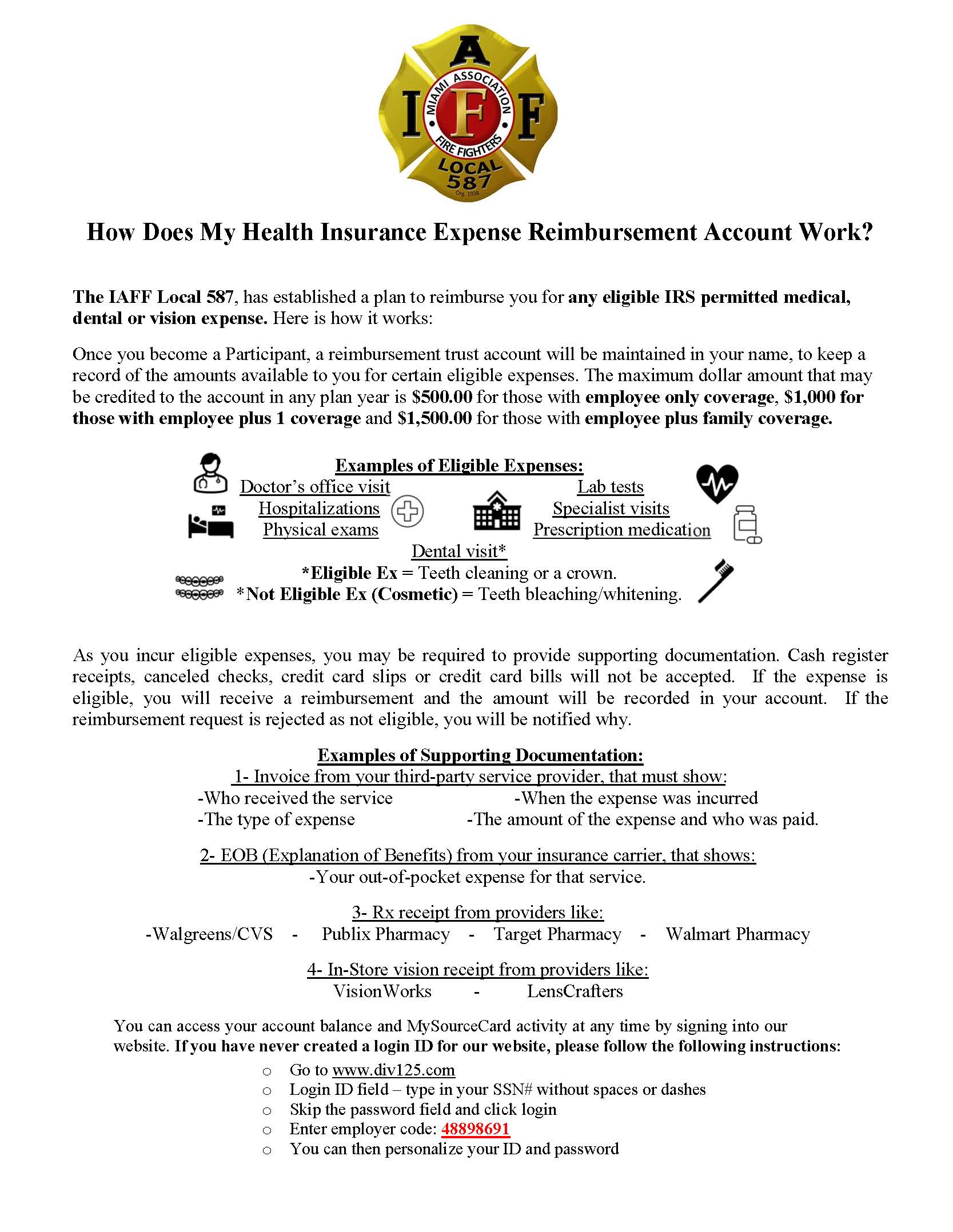 Click image to access full packet of forms and information.
Option 1- MySourceCard: Important - If you do not follow this step you will not receive a MySourceCard.
You must submit the MySourceCard Enrollment Agreement form included in the packet as directed.
How To Use the MySourceCard:
1- The card will only work at eligible medical, dental, vision & Rx providers.
2- Simply swipe your card at your provider's office.
3- Payment is automatically deducted from your available balance.
4- No need to pay cash up front and wait to be reimbursed.
5- Always remember to **SAVE YOUR DETAILED RECEIPTS. **Canceled checks, credit card slips or credit card bills will not be accepted.
6- No need to submit every claim!
a. Many card swipes will automatically be approved without additional documentation.
b. If we need to see any detailed receipts, we'll let you know by email.
c. Make sure to submit your documentation within 60 days of the swipe, to avoid an interruption on
your card!
Option 2- Claim Submission:

A. Submitting a Claim online:
After you sign in to www.div125.com, all online claims can be accessed from your user home page screen. Simply follow the prompts to submit your claim.
B. Mobile App Submission:
Note: You must create your login ID using the website, before you can log into the mobile app.
- For the iPhone you can download the app here: https://itunes.apple.com/us/app/myrsc/id561492867?mt=8
- For Android Phones you can download the app here: https://play.google.com/store/apps/details?id=com.dpath.myrsc&hl=en
C. Submit a claim form Via email:
Send claim form with all supporting documents to claims@div125.com.

D. Submit a claim via fax: (954) 983-9695.

E. Submit your claim via USPS mail:
Please allow additional time for processing.

Diversified Administration, Inc.
6600 Taft Street, Suite 304
Hollywood FL. 33024
Once your claim has been approved, you will be reimbursed via direct deposit into the account of your choosing.
Note: Please make sure you have submitted a direct deposit form when sending in your claim information.
Important Notes
When using the claim form, please make sure to put "IAFF Local 587" in the line that says "employer".
When submitting a claim for reimbursement, and it is your first time doing so, please make sure to include the direct deposit form.
Attached to this document, you will find both the claim and direct deposit forms.
If you have any additional questions or any concerns, please feel free to call: (954)983-9970, Option 3